(Ashikaga Municipal Baseball Stadium)
---
| | |
| --- | --- |
| Stadium Name | Ashikaga-shi Koshiki Yakyujo |
| Location | 1123, Tadokoro-cho, Ashikaga-shi, Tochigi |
| Opened | 1955 |
| Capacity | 2,670 |
| Dimensions | LF:321ft (98m), CF:400ft (122m), RF:321ft (98m) |
| Surface | Infield:Dirt, Outfield:Grass |
| | |
| Getting there | 30 minutes walk from JR Ryomo Line Ashikaga station. |
---


Other than Professional baseball, amateur baseball is also popular all over Japan.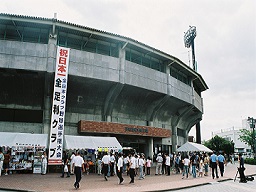 In Japan top level of amateur baseball is Industrial Baseball Leagues, in which teams are sponsored by companies and players are paid as company employees. Some players of Industrial Leagues get drafted into NPB every October.

However, in Tochigi Prefecture there is no Industrial League team. Instead, the All Ashikaga Baseball Club, non-industrial adult baseball club in this area throughout over a half century, so that they are all-time winning club with 10 championships in Japan Baseball Club Tournament.

Ashikaga Baseball Stadium is home to the All Ashikaga Baseball Club. The stadium also hosts school baseball games, such as High School Baseball and University Baseball Leagues.

In September 11, 2004, I have attended Yakult Swallows vs Yomiuri Giants, an official Eastern League game, which is the first professional baseball game to be held at Ashikaga Stadium since 1975.







2 riceballs
---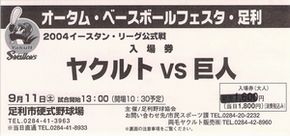 ---
---
All Photos Copyright (C) 1998-2020 Takeshi Kubota. All rights reserved.