(Yokosuka Stadium)
- Home of The Searex -
---
Stadium Name
Yokosuka Stadium

Location
2 Natsushima-Cho, Yokosuka-shi, Kanagawa

Opened
November 1949 as Oppama Kyujo, Renovated in March 1997

Capacity
5,000

Dimensions
LF300, CF390, RF300

Surface
Artificial Turf



Club
Shonan Searex

League
Eastern League

Affiliate
Yokohama BayStars



Ticket prices
(Japanese Yen)
1,000 Adult, 500 Student, 300 Child

Getting there
15 minuites walk from Keihin-Kyuko Railways Oppama Station.

---


In 1997, Oppama Kyujo was completely renovated and renamed to Yokosuka Stadium, becoming only stadium which has lighting towers as a home of Eastern League professional baseball club. Yokosuka Stadium is home to Shonan Searex, minor league affiliate of Yokohama BayStars.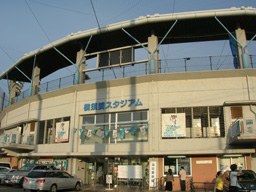 At every ballpark in Japan, they serve "curry rice" at concession stands. You can easily find that curry and rice is one of the most popular ballpark food in Japan, just same as hotdogs in US ballparks.

According to Yokosuka City official, Yokosuka is the birthplace of Japanese-style curry. It is said that British Navy orginally introduced curry to Japan Navy around 1880, whose home port used to be Yokosuka.

So famous Yokosuka Navy Curry is served in entire Yokosuka area, also at the ballpark.

It was in 1853 when United States naval officer Matthew Perry arrived in Tokyo Bay with his fleet of black ships and came ashore near present day Yokosuka, leading to the opening of diplomatic and trade relations between Japan and the United States.

Later, one of those early imports besides curry fascinated people all over Japan. Yes, that is... baseball !!




In Japan, minor league baseball club organization is not independent, so their teams usually have just same name as their major clubs. For example, Yomiuri Giants (Eastern League) is a part of Yomiuri Giants (Central League).

In 2000, Shonan Searex became the first Eastern League club which has their own nickname.

Their home town Oppama, in the city of Yokosuka, has a marchandising tie-up with Shonan Searex. They usaually lure over 1,000 Oppama people to the ballpark, making the Searex one of the most popular club in Eastern League.







2 riceballs
---
---
All Photos Copyright (C) 1998-2019 Takeshi Kubota. All rights reserved.