(Seibu Field #2)
- Home of The Lions -
---
| | |
| --- | --- |
| Stadium Name | Seibu Dai-2 Kyujo |
| Location | 2135 Kami-Yamaguchi, Tokorozawa-shi, Saitama |
| Opened | 1979 |
| Capacity | N/A |
| Dimensions | LF328, CF400, RF328 |
| Surface | Infield:Dirt, Outfield:Grass |
| | |
| Club | Seibu Lions |
| League | Eastern League |
| | |
| Getting there | 5 minuites walk from Seibu Railways Seibu Kyujo-mae Station. |
---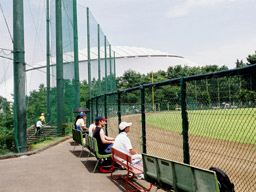 When Seibu Railway built Seibu Lions Stadium in 1979, which was later dome-covered in 1999, new baseball grounds were also developed in its neighborhood, Seibu Field #2 and #3. However, Seibu Field #3 is not in use.

There is no stand for Lions fan at Dai-2 Kyujo. Only some old plastic benches and wooden seats are installed in the surrounding of the ground. Of course, it's free to see a game.

Although facilities are poor, the field isn't. It's so fertile that some talented players have grown here.

Officially Seibu Field #2 is a home to the Seibu Lions of Eastern League, however they host only several regular season games a year these days. Instead, they usually go on a road and play at several municipal Stadiums in Saitama prefecture.

Dai-2 Kyujo is also used for practice on the day they have a night game at Seibu Dome.






1 riceball
---
---
All Photos Copyright (C) 1998-2019 Takeshi Kubota. All rights reserved.