(Baseball Stadium at Rifu Town Central Park)
- Home of The Golden Eagles -
---
| | |
| --- | --- |
| Stadium Name | Rifu-cho Chuo Koen Yakyujo |
| Nickname | Rakuten Eagles Rifu Kyujo |
| Location | 1-2-4 Aoyama, Rifu-cho, Miyagi-gun, Miyagi |
| Opened | April 1, 1997 |
| Capacity | 3,512 |
| Dimensions | LF:321ft (98m), CF:400ft (122m), RF:321ft (98m) |
| Surface | Artificial Turf |
| | |
| Club | Tohoku Rakuten Golden Eagles |
| League | Eastern League |
| | |
| Getting there | 30 minuites walk from JR Tohoku Honsen Line Rifu Station |
---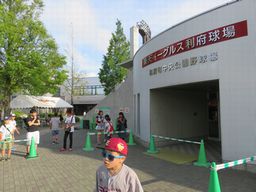 Since the Tohoku Rakuten Golden Eagles joining Pacific League of NPB in 2004, the farm system of the Eagles have been based in Yamagata Prefecture. But it seemed relatively inconvenient for young prospects of the Eagles franchised in Miyagi Prefecture to frequently access Yamagata.

So they decided to hold some home games at the small baseball park in the northeastern neighborhood of Sendai City. In 2009 Rifu Town Stadium was nicknamed "Rakuten Eagles Rifu Stadium" and since then, have been one of the home stadiums of the Eagles, Eastern League.

In 2019 the stadium was reopened after 10 months, $2.5 million renovation, installing artificial turf, infield netting and new scoreboard.

3,500 capacity of ballpark is owned and managed by 35,000 population of Rifu Town. The stadium is also open to the public and Rifu Town residents can have privilege to attend the Eagles games for free.







2 riceballs
---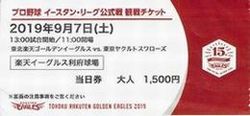 ---
---
All Photos Copyright (C) 1998-2020 Takeshi Kubota. All rights reserved.