(Yomiuri Giants Stadium)
- Home of The Giants -
---
Stadium Name
Yomiuri Giants Kyujo

Location
4-1-1 Sugesengoku, Tama-ku, Kawasaki-shi, Kanagawa

Opened
October 4, 1985

Capacity
N/A (approx. 1,000)

Dimensions
LF318, CF397, RF318

Surface
Infield:Dirt, Outfield:Grass



Club
Yomiuri Giants

League
Eastern League



Ticket prices
(Japanese Yen)
700 adults, 300 children

Getting there
15 minuite walk from Keio Yomiuri Land Station

---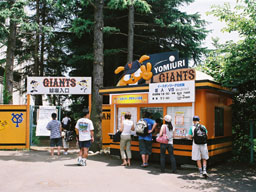 From Keio Yomiuri Land Station, you have to go up 365 steps to Yomiuri Giants Stadium. This steep slope is named "The Road To The Giants".

You can also take a fast gondola which bring you up to the gate of Yomiuri Land Amusement Park, and see an overall view of the ballpark from the gondola.

Good seats are few. Almost all of the seats have obstructed views. The third base side seats or the passageway upward the first base side dugout only allows fans to see whole of the grounds.

There is a curious shape of building at back of the first base side. This eye-catching facility was a ski jumping slope, which was once called Yomiuri Schanze. Now it is unavailable.

It may not be worth 700 Japanese yen to see baseball at this ballpark.






1 riceball
---
---
All Photos Copyright (C) 1998-2007 Takeshi Kubota. All rights reserved.