(Fighters Stadium)
- Home of The Fighters -
---
Stadium Name
Fighters Stadium

Location
459 Nakazawa, Kamagaya-shi, Chiba

Opened
March 8, 1997

Capacity
2,400

Dimensions
LF328, CF400, RF328

Surface
Infield:Dirt, Outfield:Grass



Club
Hokkaido Nippon Ham Fighters

League
Eastern League



Ticket prices
(Japanese Yen)
1,000 adults, 500 children

Getting there
Take a Shuttle Bus from Tobu Railways Kamagaya Station

---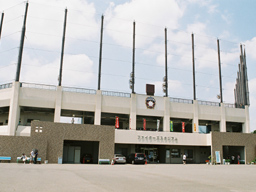 City of Kamagaya is a residential area of Tokyo and also known for pears.

From Kamagaya Station of Tobu Noda Line, you can take a shuttle bus for 100 yen to "Kamagaya Fighters Town" every 30 minutes before Fighters game. On the way to Fighters Town, a shuttle bus goes through some pear orchards during 10 minutes ride.

Fighters Town was completed in 1990. The area includes the dormitory for young prospects of the Fighters, an indoor training place and Fighters Stadium.

You can get a free paper for the Fighters fan titled "Nashi ni mukatte ute!", which means "Hit that into the pear orchard!" in English.

Although the stadium is one of the best for minor league level, they don't have a lighting tower nor eaves at the stand. So on a hot summer day, you could see some naked people at the stadium like famous bleachers bum at Wrigley.







2 riceballs
---
---
All Photos Copyright (C) 1998-2007 Takeshi Kubota. All rights reserved.