(Yokohama DeNA BayStars Training Ground)
---
| | |
| --- | --- |
| Stadium Name | Yokohama DeNA BayStars Sogo Renshujo |
| Location | Nagaura-Cho 1-1555-1, Yokosuka-shi, Kanagawa |
| Opened | 1987 |
| Capacity | 367 |
| Dimensions | LF310(94m), CF396(120m), RF310(94m) |
| Surface | Infield:Dirt, Outfield:Grass |
| Name Changes | Yokohama Taiyo Whales Sogo Renshujo (1987-1992), Yokohama BayStars Sogo Renshujo (1993-2010), Yokohama DeNA BayStars Sogo Renshujo (2011-) |
| | |
| Getting there | 10 minuites walk from Keihin-Kyuko Railways Anjinzuka Station, or 12 minutes walk from JR Yokosuka Line Taura Station. |
---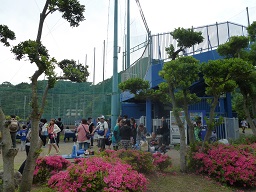 In 1987, Yokohama Taiyo Whales established their own campsite next to Yokosuka Port, the largest home port of Japan Maritime Self-Defence Forces. The facilities includes a dormitory, an indoor training field and The BayStars Stadium.

Official NPB games are rarely played at the stadium, instead the farm team of the BayStars host some training games, before, after, and also through the regular season. All those games are free of charge.

Beside the stand behind the backstop with plastic bench seats, capasity of only 367, there are small standing areas at both the first and the third base side.

There are no concession stands, only a vending machine is available. Instead of poor facilities, almost 500 of crowds always come here and enjoy the games, cheering for young prospects of the BayStars.






1 riceball
---
---
All Photos Copyright (C) 1998-2013 Takeshi Kubota. All rights reserved.