(Tokyo Dome)
- Home of The Giants -
---
| | |
| --- | --- |
| Stadium Name | Tokyo Dome |
| Location | Suidobashi 1-3, Bunkyo-ku, Tokyo |
| Opened | March 17, 1988 |
| Capacity | 55,000 |
| Dimensions | LF:328ft (100m), LC:361ft (110m), CF:400ft (122m), RC:361ft (110m), RF:328ft (100m) |
| Surface | Artificial Turf |
| | |
| Club | Yomiuri Giants (Sharing the home with Nippon Ham Fighters untill 2003) |
| League | Central League |
| | |
| Getting there | 1 minuite walk from Korakuen Subway Station; 2 minuites walk from JR or Municipal Subways Suidobashi Station |
---


Tokyo Dome is the first domed stadium in Japan. The roof is supported by air. It means that this multi purpose facility was modeled after HHHMetro Dome in Minneapolis, which is said as one of the least popular ballpark in MLB.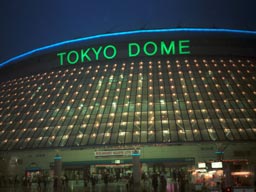 This awful dome, nicknamed BIG EGG, is also the first stadium that hosted MLB regular season game outside North America. Mets and Cubs opened the official 2000 season with two-game series here.

Regularly the Giants (Central League) and the Fighters (Pacific League) share this stadium. However an atmosphere of each game is so different. It is hard to get a ticket for Yomiuri. There are thousands of people standing to see a game at the concourse on the Giants game day. On the contrary, you could buy any Fighters game ticket as you want.

In 2003, the Fighters abandoned BIG EGG, and left for Sapporo, Hokkaido, northernmost mainland in Japan. It could be a good decision!

OK, Tokyo Dome has some advantages, I admit. Firstly there are various concession stands. Then on the first floor they have "Baseball Hall of Fame and Museum" and a huge souvenir shop "TO-DO".




In Japan there are two types of baseball fan, one is who enthusiastically support the Yomiuri Giants and the other is people who hate them. Can you guess which I belong to? It could be an easy queston.

When I was little, my father used to say that "Kyojin", which means Giants in Japanese, was a good team because they had some good players by spending a huge amount of money, and he hated that way. Ah, well, Yomiuri still keeps the way...

Don't misunderstand me please. I respect some great players in Giants history. Have you heard the name Shigeo Nagashima or Sadaharu Oh? Nagashima is an alltime superstar like your Babe Ruth or Joe DiMaggio. Oh has a lifetime 868 home run record. By the way, "Oh" means "the king" in Japanese. It sounds interesting, doesn't it?

LHP Masaichi Kaneda won the 400th as a Giant at Korakuen Stadium in 1969. In 1987 my favorite Korakuen Stadium was demolished and BIG EGG was built right next to where Korakuen was. Now I remember I was there on the day Kaneda won historical 400th!!


Franchise Established
December 26, 1934

Club Changes
Tokyo Kyojingun (1936-1946), Yomiuri Giants (1947- )

League Titles

'51, '52, '53, '55, '56, '57, '58, '59, '61, '63, '65, '66, '67, '68, '69, '70, '71, '72, '73, '76, '77, '81, '83, '87, '89, '90, '94, '96, '00, '02, '07, '08, '09, '12, '13, '14
(Years in bald indecate Japan Series Champions)

Team Song
"Tohkon Komete" (With The Fighting Spirits)

Parent Company
Yomiuri Shimbun (Newspaper)


1 riceball
---
---
All Photos Copyright (C) 1998-2019 Takeshi Kubota. All rights reserved.