(Nagoya Dome)
- Home of The Dragons -
---
| | |
| --- | --- |
| Stadium Name | Nagoya Dome |
| Location | 1-1-1 Daiko-Minami, Higashi-ku, Nagoya-shi, Aichi |
| Opened | March 15, 1997 |
| Capacity | 40,500 |
| Dimensions | LF:328ft (100m), LC:380ft (116m), CF:400ft (122m), RC:380ft (116m), RF:328ft (100m) |
| Surface | Artificial Turf |
| | |
| Club | Chunichi Dragons |
| League | Central League |
| | |
| Getting there | 5 minuites walk from Municipal Subway Meijo Line Nagoya Dome-mae Yada Station, 10 minuites walk from JR Chuo Line or Meitetsu Seto Line Ozone Station. |
---


Nagoya Dome was opened in 1997 as the third domed stadium in Japan and the largest multi-purpose facility at that time.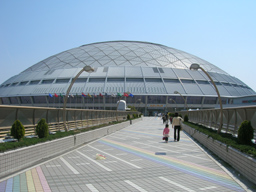 Instead of a baseball game, the inaugural event of Nagoya Dome was a live concert by B'z, one of the most popular rock stars in Japan. They were inducted into Hallywood RockWalk in 2007.

Nagoya Dome set the high-tech double glazed panels for the center of the roof, to get the sunshine into the stadium. So they are proud of consuming less energy on sunny days.

However, it is too shinny for players to see a fly ball, so during a baseball game the glass roof was shaded with the system called "Skyroll".

Needless to say, the advantage, the only one advantage in my eyes, of domed stadium is that they can play even while it heavily rains. But it was on a typhoon day of September 2000 when rain water flooded the dugouts and some parts of the field of "all-weather" Nagoya Dome. Finally Chunichi was forced to cancel the game.




The Dragons have been the only one baseball club in Chubu-Nippon (Central Japan) region since pro league was established in Japan. That is why Dragons fan are so enthusiastic, also having been so frustrated because their beloved Dragons have never won Japan Series for over half a century.

Chunichi officials have been struggling for years. Dragons imported Don Newcombe and Larry Dobby in 1962, the first ex-Major Leaguers playing in Japan. In 1987 they acquired 1985-86 Triple Crown slugger Hiromitsu Ochiai from Lotte for a package of four players. Next season, they won CL Championships, still couldn't reach the Series Trophy.

In 2007 regular season, they finished 2nd as usual. However, thanks to the new post season system called "Climax Series", they defeated pennant-winning Yomiuri Giants and got the right to appear in the Fall Classic.

In Game 5 of the series, Chunichi's starter Daisuke Yamai pitched eight perfect innings before the manager Ochiai made a controversial decision, replacing him with their dominant closer Hitoki Iwase. As Iwase made a shutout inning, they finally clinched the Japan Series.

It was the first time that two pitchers combined for the perfect game in Japan Series history, and the Dragons became the first baseball club to win Japan Series title despite losing CL Championship.


Franchise Established
January 15, 1936

Club Changes
Nagoyagun (1936-1943), Sangyo (1944), Chubu Nippon (1946), Chunichi Dragons (1947-1950), Nagoya Dragons (1951-1953), Chunichi Dragons (1954-)

League Titles
'54, '74, '82, '88, '99, '04, '06, '07, '10, '11
(Years in bald indicate Japan Series Champions)

Team Song
"Moeyo Dragons ! " (Burn with passion, the Dragons ! )

Parent Company
Chunichi Shimbun (Newspaper)


1 riceball
---
---
All Photos Copyright (C) 1998-2019 Takeshi Kubota. All rights reserved.