(Mazda Zoom-Zoom Stadium Hiroshima)
- Home of The Carp -
---
| | |
| --- | --- |
| Stadium Name | Hiroshima Shimin Kyujo (Mazda Zoom-Zoom Stadium Hiroshima) |
| Location | 2-3-1 Minami-Kaniya, Minami-ku, Hiroshima-shi, Hiroshima |
| Opened | April 1, 2009 |
| Capacity | 33,000 |
| Dimensions | LF:331ft (101m), CF:400ft (122m), RF:328ft (100m) |
| Surface | Grass |
| | |
| Club | Hiroshima Toyo Carp |
| League | Central League |
| | |
| Getting there | 10 minuites walk from JR Hiroshima Station South Gate. |
---


After almost 10 years of wandering discussion about the replacement for the 1957-built stadium, a new ballpark design was finally adopted by City of Hiroshima in 2006. Soon, construction began and was completed in March, 2009. The very first "American-style" ballpark in Japan was built at a cost of 11 billion JPY, approximately $120 million.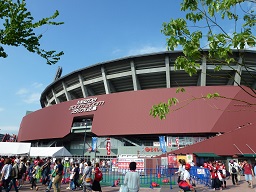 New Hiroshima Civic Stadium is a baseball-only park, featuring the grass playing field with asymmetrical dimensions, the wide walkway of concourse which surrounds the main seating bowl and entire field, the double-deck grandstand with nice view of Chugoku Mountains. All the seats provide excellent sightlines which aren't ruined by protective netting.

Among a wide variety of seating areas, the section called "Performance Seat" is so unique. Only in these areas supporters are allowed to cheer their team with drums and horns. "Performance Seat" are set at the upperdeck of the right stand for Carp fans and beside the left field for visiting team fans.

Concession stands are also various. You can enjoy "Carp Udon" (Noodles), longtime popular ballpark food in Hiroshima inherited from former Civic Stadium.

The stadium is constructed at the site that used to be a freight yard, located alongside Japan Railway bullet train tracks. The area is planned to be developed as "Hiroshima Ball Park Town", including indoor baseball ground, residential tower, fitness club, shopping center and entertainment facilities.

The naming rights are sold to a Hiroshima-based Automobile Company, Mazda Motor Corporation. The ballpark name is usually abbreviated to just "Mazda Stadium".




The highlight of Carp history is the last game of 1979 Japan Series. At the bottom of nineth with Hiroshima leading 4 to 3, no out and bases loaded. Carp closer Enatsu made incredible 21 pitches and gave no run, then they won the first Japan Series Championship.

Infielder "the Iron Man" Sachio Kinugasa never missed a game during whole his 17 years career with "Aka-heru", red helmet in English, 1970-1987. 2,215 consecutive games stood as a world record until Cal Ripken surpassed it in 1996.

In 1990, Carp established "Hiroshima Toyo Carp Academy of Baseball" in Dominican Republic, which has deliverd some talented atheletes. A 19 year-old second baseman from this baseball camp played only nine games for Hiroshima in 1997. He batted .118, getting two hits in 17 appearances. I was really surprised that this wiry 6-1, 180-pounder guy, Alfonso Soliano, appeared in the 2000 Fall Classic as a Yankee.


Franchise Established
November 28, 1949

Club Changes
Hiroshima Carp (1950-1967), Hiroshima Toyo Carp (1968- )

League Titles
'75, '79, '80, '84, '86, '91, '16, '17, '18
(Years in bald indicate Japan Series Champions)

Team Song
"Sore Ike Carp" (Let's Go! Carp)

Parent Company
None






5 riceballs
---
---
All Photos Copyright (C) 1998-2019 Takeshi Kubota. All rights reserved.