(Meiji Jingu Stadium)
- Home of The Swallows -
---
| | |
| --- | --- |
| Stadium Name | Meiji Jingu Yakyujo |
| Location | 13 Kasumigaoka, Shinjuku-ku, Tokyo |
| Opened | October 22, 1925 |
| Capacity | 34,572 |
| Dimensions | LF:331ft (101m), CF:394ft (129m), RF:331ft (101m) |
| Surface | Artificial Turf |
| Name Changes | Meiji Jingu Yakyujo (1926-1963), State Side Park (1945-1952), Meiji Jingu Yakyujo (1952- ) |
| | |
| Club | Tokyo Yakult Swallows |
| League | Central League |
| | |
| Getting there | 10 minuites walk from JR Sendagaya or Shinanomachi Station; 5 minutes walk from Gaien-mae Subway Station. |
---


Even though it's a beautiful Sunday afternoon and also seems a perfect day for going to see a Swallows game, you should take an umbrella with you, a green plastic one is much better. When Yakult scores a run, at the right field bleachers you can join cheerful "Kasa Odori", an umbrella dance with Japanese popular folk song "Tokyo Ondo".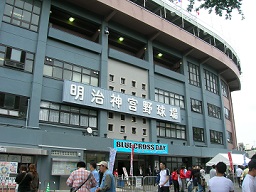 Jingu Stadium is owned by one of the biggest shrines in Japan, Meiji Jingu, and located in Meiji Jingu Shrine's Outer Garden. There are also several sporting arenas including Japan's largest National Stadium, Rugby Football Stadium and Sub Baseball Stadium.

Jingu is the second oldest and the smallest ballpark for pro use. When it was opend in 1925, there was no professional baseball league in Japan. The most popular baseball was collegiate league.

The first pro baseball club for Jingu was Toei Flyers in 1962. In 1964 Kokutetsu Swallows made this stadium their home.

The history of Jingu tells that this ballpark is not only the home of the Swallows but Mecca of university baseball. So they sometimes have a trippleheader, such as two university games in the daytime and the nightcap for the Swallows.




After the long period under darkness, in 1978 the Swallows won the pennant for the first time. In the last decade of the 20th century, they were competitive because of their good pitching stuff and one of the best catcher in Japanese baseball history, Atsuya Furuta.

Yakult also have had some impressive foreign sluggers. Jack Howell was a batting and HR leader and also MVP for 1992 season. Tom O'malley, an ex-manager of Newark Bears of Atlantic League, was named for MVP in 1995. In 1997 Dwayne Hosey won home run title. Roberto Petagine is 1999 / 2001 HR leader and 2001 MVP. I saw Jack Howell at Milwaukee in 1997 and Dwayne Hosey at Ottawa in 1999.


Franchise Established
September 21, 1949

Club Changes
Kokutetsu Swallows(1950-1964), Sankei Swallows(1965), Sankei Atoms (1966-1968), Atoms (1969), Yakult Atoms (1970-1973), Yakult Swallows (1974-2005), Tokyo Yakult Swallows (2006- )

League Titles
'78, '92, '93, '95, '97, '01, '15
(Years in bald indicate Japan Series Champions)

Team Song
"Tokyo Ondo" (Tokyo Dance Song)
It isn't a team song, but Swallows fan sing this song every game.

Parent Company
Yakult (Foods and drinks)



2 riceballs
---
---
All Photos Copyright (C) 1998-2019 Takeshi Kubota. All rights reserved.