(Hiroshima Civic Stadium)
- Home of The Carp -
---
| | |
| --- | --- |
| Stadium Name | Hiroshima Shimin Kyujo |
| Location | 5-25 Motomachi, Naka-ku, Hiroshima-shi, Hiroshima |
| Opened | July 24, 1957 (retired after 2008 season) |
| Capacity | 32,000 |
| Dimensions | LF:300ft (91.4m), CF:380ft (115.8m), RF:300ft (91.4m) |
| Surface | Infield:Dirt, Outfield:Grass |
| | |
| Club | Hiroshima Toyo Carp |
| League | Central League |
| | |
| Getting there | 20 minuites walk from JR Hiroshima Station; 2 minuites walk from Hiroshima Bus Cenetr; 1 minuites walk from Genbaku Dome-mae streetcar stop. |
---


Hiroshima Civic Stadium was opend in 1957. Construction was financially supported by large donations by people and local industries in Hiroshima. City of Hiroshima spent only $15 to build this stadium.

At every ballpark in Japan, you see noisy and rowdy "Oendan", supporters at outfield bleachers. They perform trumpets and drums, waving huge flags and chanting in unison. This style of cheering for their baseball team is said to originate in Hiroshima. Also you would be impressed to find Carp fans being so tough that they keep standing and sitting alternativelly, shouting Carp players' name without a break during the bottom of each inning.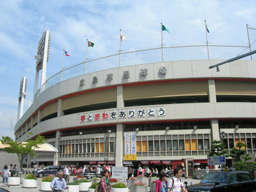 Facilities of the stadium might be the poorest among pro-use ballparks in Japan, however it provides one of the greatest views with Chugoku Mountains. There is a Samurai-era's style castle, nicknamed Carp Castle, beyond the right stand. The club was named after this historical pretty castle.

The ballpark is located in downtown area. Just across the street there is the UNESCO World Heritage "A-Bomb Dome", which is only structure left standing near the hypocenter of the first atomic bombing in human history. I strongly recommend that you visit Hiroshima Peace Park and Peace Memorial Museum before going to the ballpark.

Infield of Hiroshima Kyujo is dirt. I have never seen such kind of stadium in US, still it's common in Japan. Recently they are looking for a new ballpark with full natural grass field somewhere in Hiroshima downtown.

In 2007, they began construction on a new stadium. Hiroshima Carp are expecting to open their new home in 2009. The final game at the stadium was held on September 28, 2008 with the Carp beating the Swallows 6-3.







2 riceballs
---
---
All Photos Copyright (C) 1998-2014 Takeshi Kubota. All rights reserved.